The Collected Works of Witness Lee, a one hundred thirty-nine-volume set, was completed this year with the publication of the Index. Of the over seventy-seven thousand pages, nearly half are available only in The Collected Works of Witness Lee. In order to grow and mature in life, we must be constituted with the truth and the life supply that are found in the New Testament ministry, yet it may be difficult for many to know where to begin. With this in mind, Living Stream Ministry began to compile and publish a periodical entitled Ministry Digest in order to help the believers, particularly those who do not own a complete set, enter into the full extent of Brother Lee's ministry.
The content of Ministry Digest follows selected lines of ministry that are applicable to believers in various human situations and at different stages of the Christian life. Each volume will contain four lines of ministry with four messages in each line so that individuals, small groups, and even an entire church can choose one or more lines to read through at a pace of one message per week. At present, the four lines are: 1) The History of the Lord's Recovery, 2) Words for New Believers, 3) Maturing in Life, and 4) The High Peak of the Divine Revelation. When we conclude a particular line of messages, a new line will replace it. Ministry Digest will be a monthly, subscription-based publication. Each subscriber will continue to receive a new issue every month. We encourage you to subscribe to this publication.
The print edition is published in English, Spanish, Chinese and Korean. To subscribe to the print edition, go to https://www.lsm.org/ministry-digest. Electronic editions exist in English, Spanish, and Chinese, and are available on Apple Books, Google Play, Amazon Kindle, Kobo, and Barnes & Noble.
If you own the print or digital edition of The Collected Works of Witness Lee, there is a webpage for each issue of Ministry Digest that lists where each chapter in that issue is found in CWWL. You will need to go to the above webpage and click on the "ALL ISSUES" link (upper right).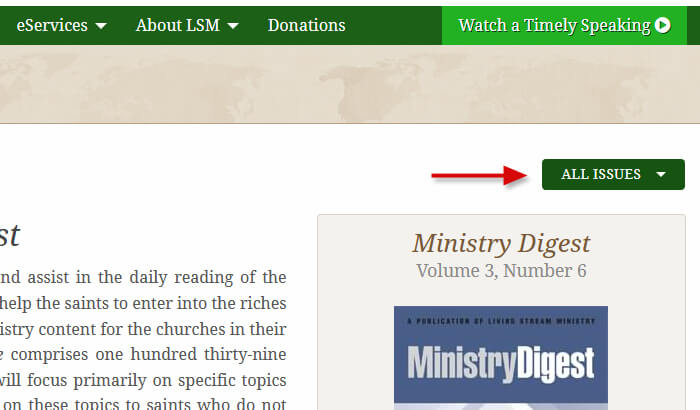 Testimonies concerning Ministry Digest
Testimony 1
Testimony 2